Witch King Of Angmar Lord Of The Rings Tattoo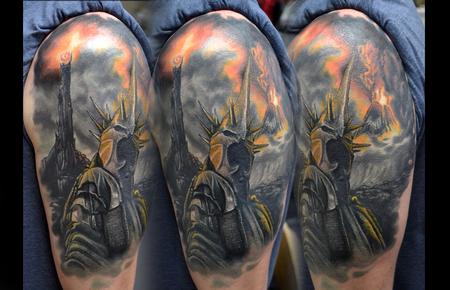 I finished this Witch King of Angmar tattoo today. In the first session we did all the linework and coloured all the background as well as some of the inital black shading in the Witch King.
Today i finished colouring in the Witch King and blended out some of the browns in the sky. This was a really fun piece to work on with a customer who was really easy to work with and i think we came up with a real cool looking piece.
Keyword Galleries:
Color Tattoos
,
Evil Tattoos
,
Fantasy Tattoos
,
Movie Tattoos
,
Realistic Tattoos
,
Body Part Arm Tattoos
,
Body Part Arm Sleeve Tattoos
,
Finished Work Tattoos
,
General Tattoos
,
Half-Sleeve Tattoos
,
Misc Tattoos
,
Oddities Tattoos