Van Helsing Sleeve Tattoo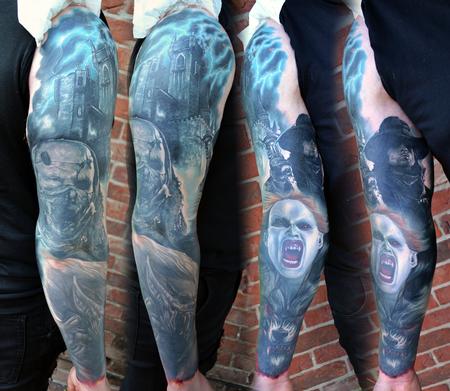 I recenly finished this Van Helsing themed sleeve tattoo on a regular client of mine name Kirk, Kirk also has the full leg sleeve of various horror portraits. This sleeve tattoo was a lot of fun to work in, incorporating portrait tattoos of most of the main characters, in either their human or monster forms. The sleeve has a couple of cover-ups chucked in there for good measure too.

Two limbs fully covered on Kirk now, two more to go, a Mortal Kombat X Portrait leg sleeve tattoo which is already started and then at the International London Tattoo Convention we are starting a Todd Mcfarlanes Spawn sleeve.
Keyword Galleries:
Color Tattoos
,
Coverup Tattoos
,
Evil Tattoos
,
Fantasy Tattoos
,
Movie Tattoos
,
Movie Horror Vampire Tattoos
,
Portrait Tattoos
,
Realistic Tattoos
,
Body Part Arm Tattoos
,
Body Part Arm Sleeve Tattoos
,
Finished Work Tattoos
,
General Tattoos
,
Misc Tattoos
,
Movie Horror Tattoos
,
Movie Horror Frankenstein Tattoos
,
New Tattoos
,
Oddities Tattoos
,
Sleeves Tattoos