Horror Sleeve Tattoo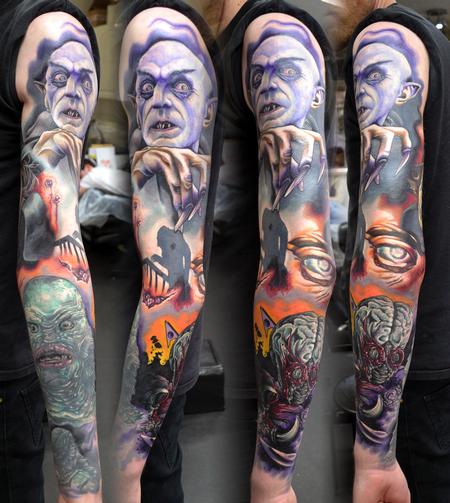 Today I finished this Horror Portrait Sleeve Tattoo on long term customer Rob. In the past 3 days we added the Metaluna Mutant Portrait Tattoo, the eye on the elbow tattoo, the wounds and injured skin in the inner ditch of the arm,around the elbow and up next to the Nosferatu portrait tattoo.

We then went through the sleeve hitting the small touch ups, finishing sections that had been left unfinished and then working back into healed sections to help everything settle in with a similar look.

The Creature from the black lagoon is a triple cover up and is a year old, the Nosferatu sillouette and Portrait is around two years old.

Always interesting to see how much changes in how you approach tattooing as time goes on.

Fully healed photos soon when Rob returns to start a Star Wars portrait tattoo sleeve of Sith Lords!!
Keyword Galleries:
Color Tattoos
,
Coverup Tattoos
,
Evil Tattoos
,
Movie Tattoos
,
Movie Horror Vampire Tattoos
,
Portrait Tattoos
,
Realistic Tattoos
,
Body Part Arm Tattoos
,
Misc Tattoos
,
Movie Horror Tattoos
,
Movie Sci Fi Tattoos
,
Oddities Tattoos
,
Sci Fi Tattoos
,
Skin Rips Tattoos
,
Sleeves Tattoos
,
Space and Aliens Tattoos