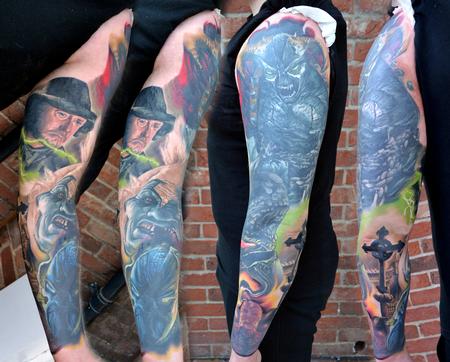 Finished up this Spawn the Eternal sleeve today, all artwork is from either Spawn the movie or taken from Todd Mcfarlanes Spawn comic books. First started at The London Tattoo Convention 2016, we have been working on this sleeve for around 18 months while working on other one off pieces at the same time. This customer is going for a lot of very heavy coverage.
The portrait on the inner lower arm is a cover up and so is the Omega Spawn at the top of the arm.
This is his 2nd sleeve and he also has one full leg sleeve complete and the other leg is around 50% complete. I have left the top of the arm open so that his chest and back can be joined in and we wont be left with any awkward connections or gaps.
Keyword Galleries:
Color Tattoos
,
Coverup Tattoos
,
Evil Tattoos
,
Fantasy Tattoos
,
Movie Tattoos
,
Portrait Tattoos
,
Realistic Tattoos
,
Body Part Arm Tattoos
,
Body Part Arm Sleeve Tattoos
,
Cartoon Tattoos
,
Comic Book Tattoos
,
Misc Tattoos
,
Movie Horror Tattoos
,
Oddities Tattoos
,
Sci Fi Tattoos
,
Sleeves Tattoos